Hello again.
What has happened and where has the time gone? I've been very busy with my site and other interior projects. We have had a lovely holiday in Ireland and now kids are all back to school and routine has kicked in again. I loved having the kids around with no obligations or timetables, no football and ballet, no swimming. But I am also a tiny wee bit happy to have some time to properly crack on with stuff. I miss the hugs and cuddles but don' t miss the referee role I had adopted by the end of the hols.
So whats new? I am making good progress with the site; I realize I am a detailed and pernickety customer so it is taking its time.  I have also been asked to become part of a bloggers team (and to write weekly blogs) for another blog. This is for a Dutch blog so no good for all you English speaking folk but for anyone interested, and able to read the Dutch lingo – go check out www.interiorjunkie.com. I am excited about this! I have also had a photographer and stylist come along, who took some pics of my house.The pics and an interview, with yours truly, are hopefully going to be featured in one of the leading interior magazines. I have no idea which one yet, but will keep you posted.  So whilst I have been terrible in keeping the blog up to date – things have been happening!
On to the reason you are supposed to read my blog – my interior ideas, thoughts and updates.
I recently got asked – when I had the photographer in – how to describe my style. I always start with 'eclectic' -mix different styles such as vintage, art deco, Hollywood Regency, antiques, contemporary design etc – with a dark backdrop and pops of colour. Moody. Add loads of textures. Put in a couple of oversized objects to create some drama. Mix and match cheap and luxury. Put colours together which aren't meant to go together. Add a bit of glam. Don't forget to leave out some humor. Great style doesn't cost the world. More is more; less is a bore. Need I go on? I appreciate this doesn't quite work when asked at a dinner party to describe your interior design style. Your audience will be under the table with boredom or booze – or both.
I think my style can probably best be described as "a style which breaks all the design rules"? So I think I need to work on my elevator pitch! However, meanwhile I will give you a couple of examples of why I break all the design rules:
Feature walls & ceilings
In the design world feature ceilings and walls are considered a big offense. I don't get it. I actually think a room looks better if you don't forget about the ceiling. So either paint it in the same – in my case dramatic dark – colour so that it ties in with the rest and makes everything flow much better. Your room won't look smaller I promise. Or else paint it in a totally different colour for extra impact. With regards to feature walls such as one wall covered in wallpaper – I haven't done this but don't quite get the drama about why you shouldn't. It can make a dull corner more interesting- so go for it.
Humor – cheap and cheerful next to design classics
Most designers will of course harp on about the need for some design classics, some 'must haves.' I tend to agree this is quite important. But money won't buy you style in fact it will probably make a space look not lived in, impersonal and dull if you don't bring in a bit of cheap and quirky humor. Dress your Eames chair with an H&M cushion. Pair up your Gio Ponti table with some quirky Zara Home accessories or your much loved fleamarket trinkets.
Colours – Never to be seen together
Apparently red and pink don't go well together. Blue and green are never to be seen. Well I disagree. My front room's colours are blue and green! Judge for yourself.
ad 1) Ceiling painted in same colour as the walls in my kitchen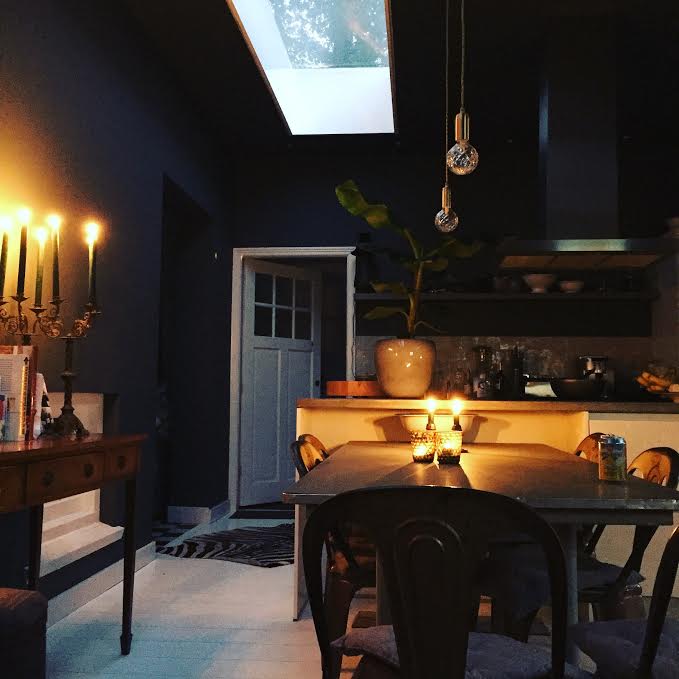 ad 1) A bit of extra drama by painting ceiling in gold!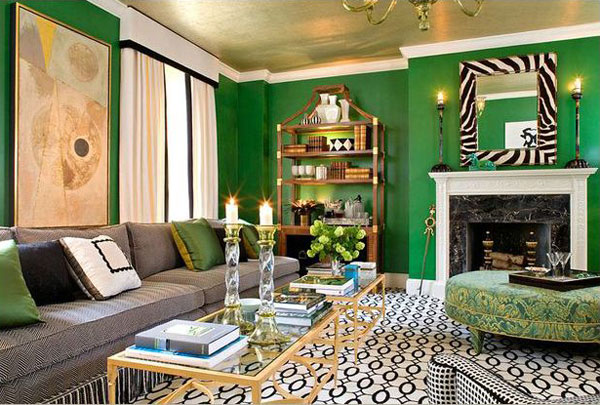 http://freshome.com/2012/09/13/10-secrets-from-top-interior-designers/
ad 2) Humor – quirky Zara Home (starfish and shell) trinkets on antiques table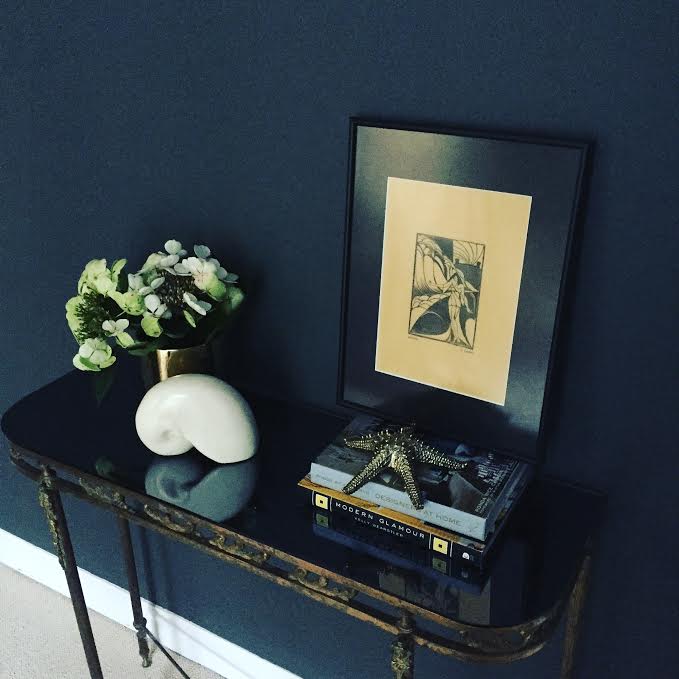 ad 2) Humor – Artwork with playful skull and vases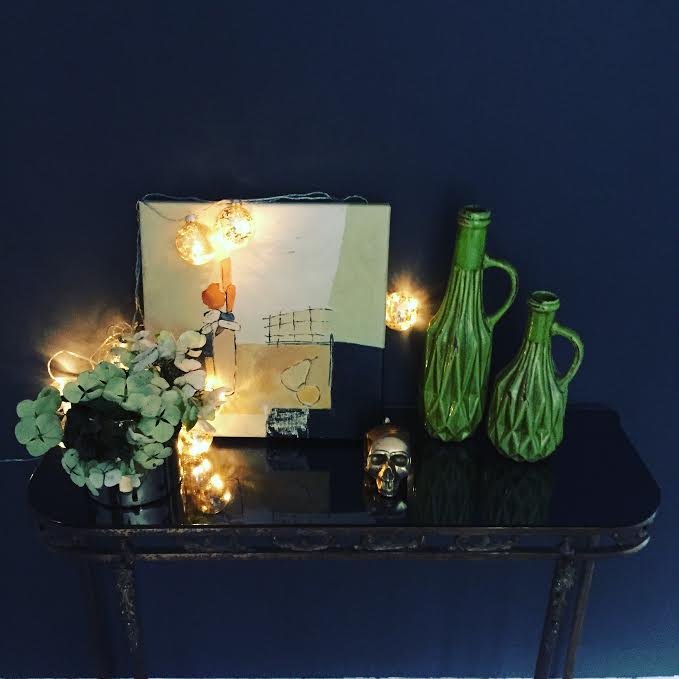 ad 3) Colours never to be seen together: blue and green!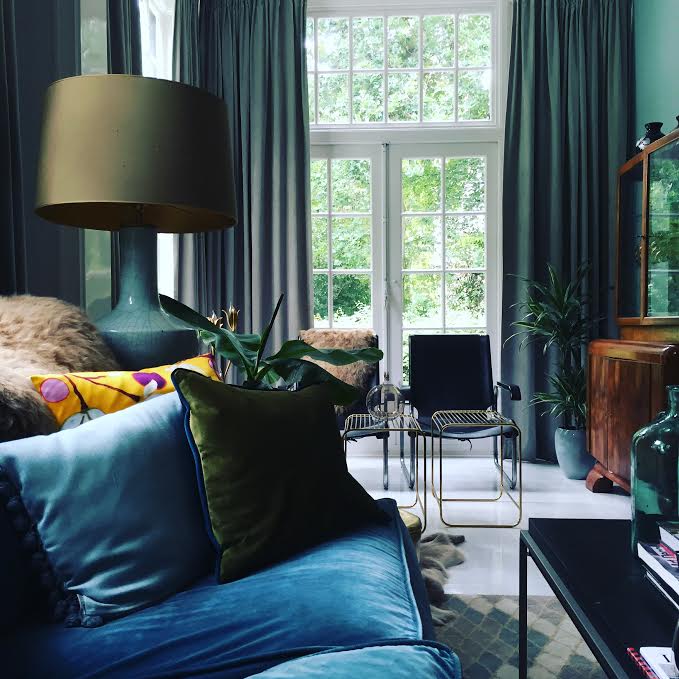 So have a great weekend and if you're interested have a look at my first blog on www.interiorjunkie.com:
http://www.interiorjunkie.com/zo-creeer-je-de-perfecte-shelfie/