One of my alltime favourite musthaves in a home is a bar. …not a full on cruiseship or Johnny English home saloon bar but a bar cart, trolley, drinks cabinet or something that holds your booze and looks inviting and welcoming. I must have written about it before, but just can't get enough of this topic. After a long and sometimes challenging day I love nothing more than to walk to my bar cart – if I had one!! – pick a lovely glass and poor myself a drink. Most likely I would grab myself a quick mucky glass from the kitchen and poor myself a cold white wine (probably Sadnee (Chardonnay) as my daughter writes down my order when playing waitress!!). I am not really a spirits drinker  –  although you can't beat a great G&T in summer! Or a Bloody Mary when trying to use the good old 'Hair of the Dog' method to cope after the night before! Anyway, I say if I had one. Of course I have a place where I have displayed my decanters and glassware and bottles but not as such a trolley or cart. I am so in need of one!!
Let me start with the location of the trolley. This is the fun bit; it can go anywhere!I think historically people tend to have the trolley or cart either in the dining area or living space. However, I have seen a bar cart in the hallway directly as you enter the home. This is so incredibly inviting and makes for a great entrance. What's better than before you have taken off your coat to mix yourself a stiff drink? Drink in hand coat in other – love it! Seriously take a look at the one in the hallway in the home of fabulous Nina Campbell. She is so stylish so if she can pull it off well then…. I am really considering one in my hallway and then one in my dining area too. I don't think I have a problem – seriously…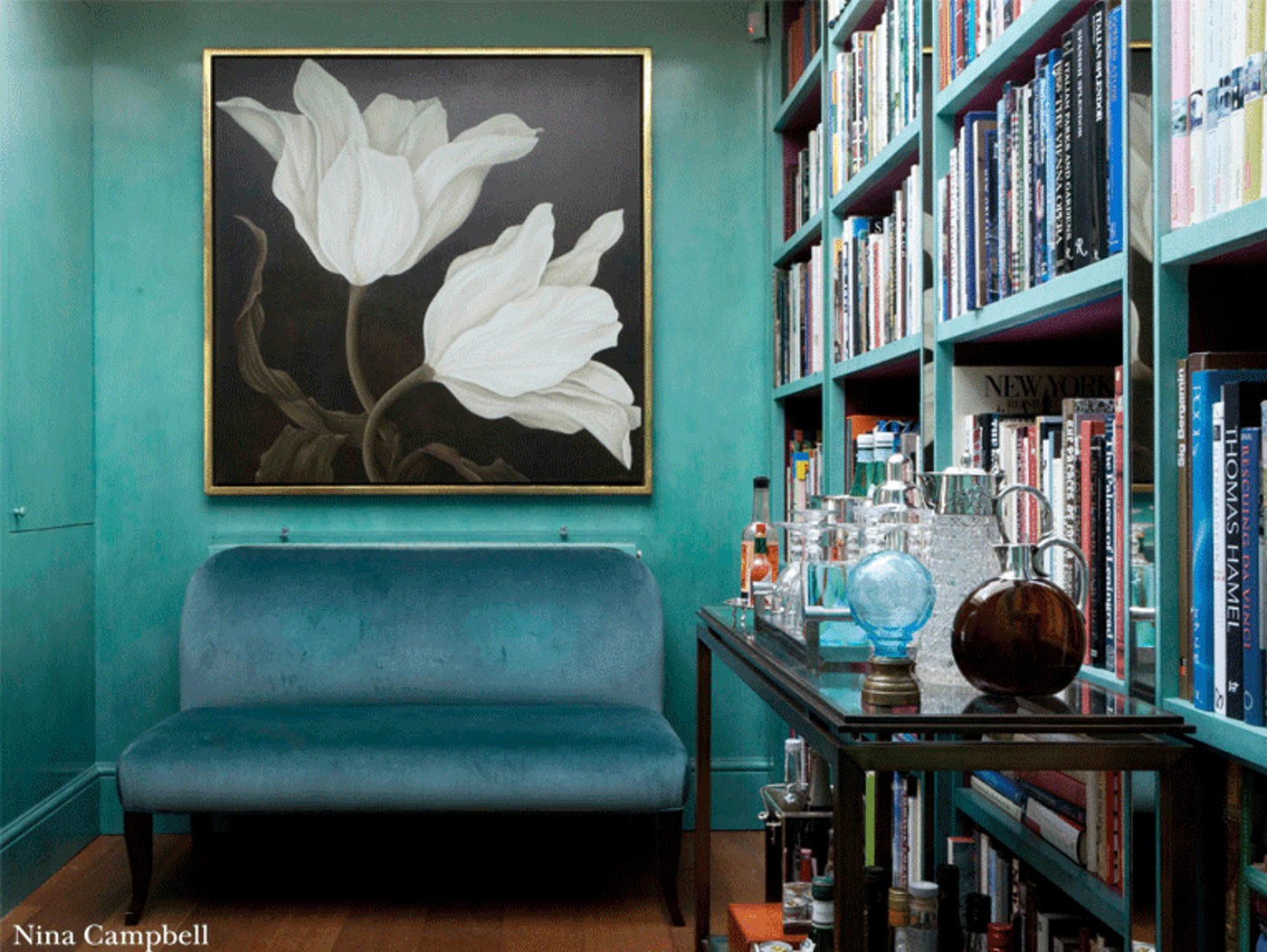 What type of bar?
My personal favourite would have to be a trolley and then something of the brass variety, art deco style. I am a real lover of the glam Hollywood Regency style. So anything that looks a bit like that is also perfect. Of course you don't need a trolley, it can easily be a nicely styled console, sidetable, sideboard if you are trying to make use of what you have. Have a look at some great trolleys  below – I would happily take a present of any one of them!
Then on to the interior styling bit, how to dress or style your trolley or cart:
.Booz- the obligatory bottles of drink – whatever your tipple
Glass ware – preferably a bit of vintage or antiques – unusual ones in all shapes and sizes. A bit of coloured glass is really great too.
Decanters – a couple of decanters create some "old world" interest and height
A bit of bling – I think you need some accessories with a bit of bling such as brass or silver
Ice-buckets in all shapes really – pineapple shapes are really popular and stylish
Cocktail shakers – instant bling as they tend to be of the silver metal
A little vase with a few flowers
A good lamp
Anything you like really!
You don't need all 9 items but I think if you get 5 or 6 out of the 9 you are sorted. Have fun throwing this all together! And…have a great weekend! Cheers!
For those of you interested, check out my Instagram on www.instagram.com/magpiehomes/ and I also have another blog post out on www.Interiorjunkie.com  – http://www.interiorjunkie.com/kleur-bekennen-met-een-roze-bank-in-huis/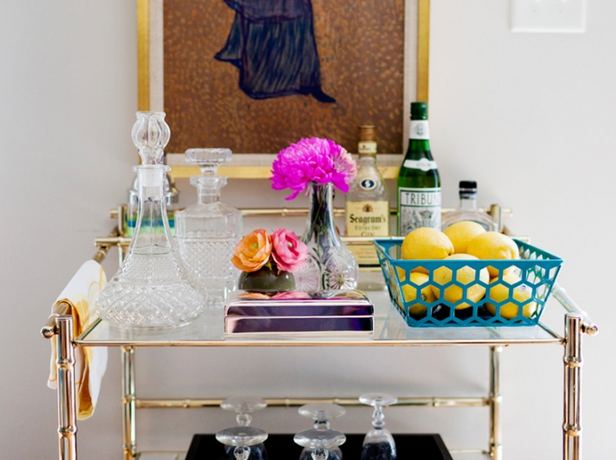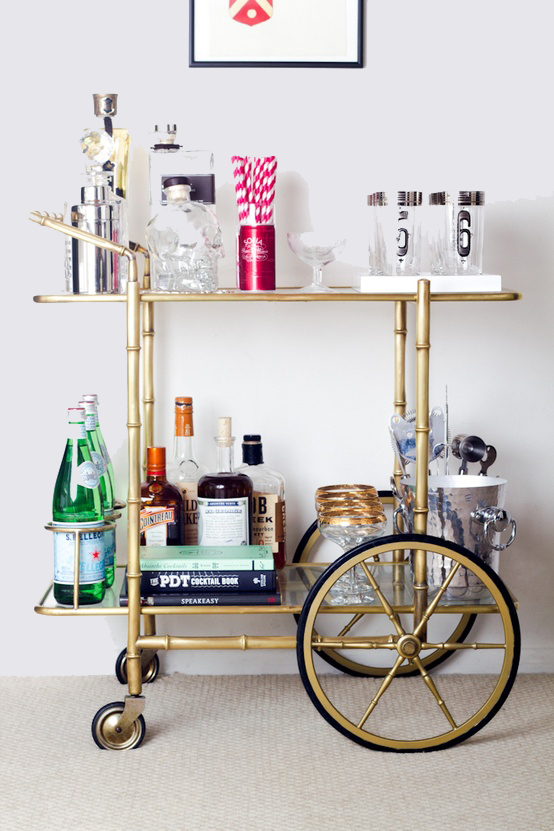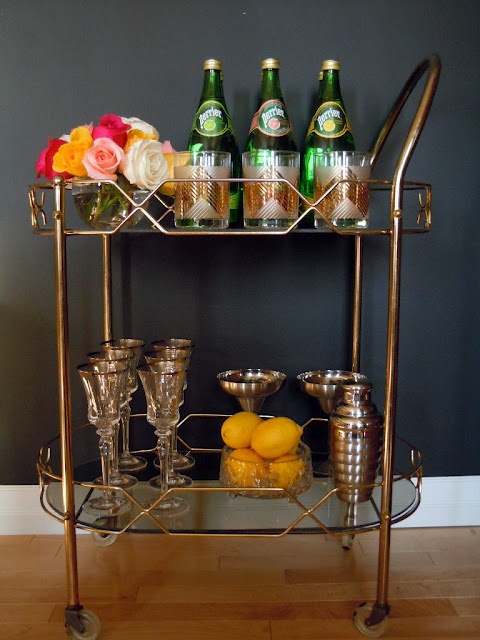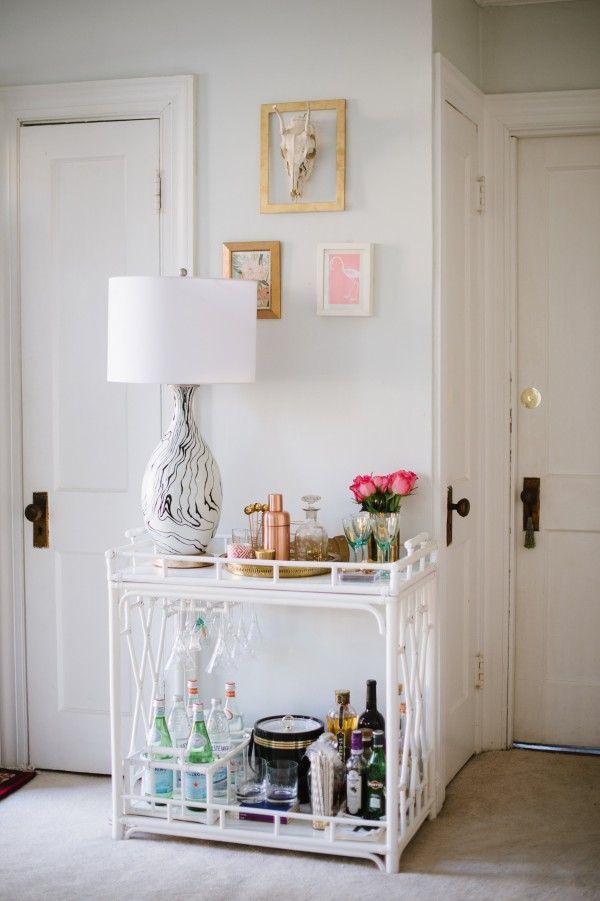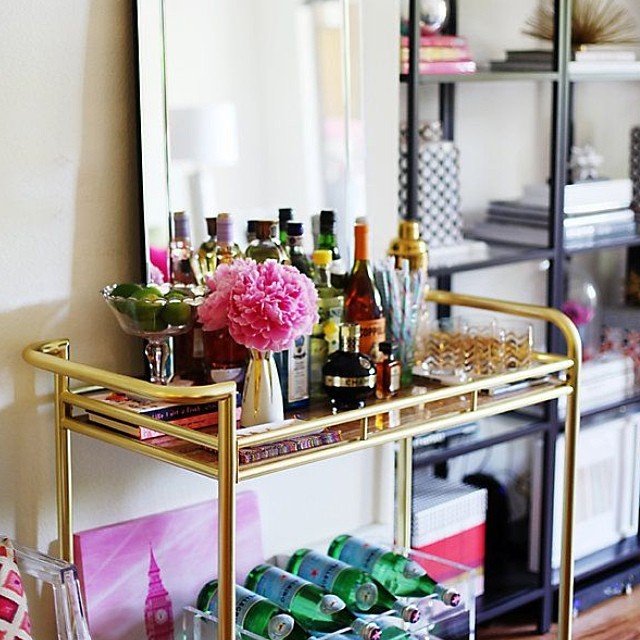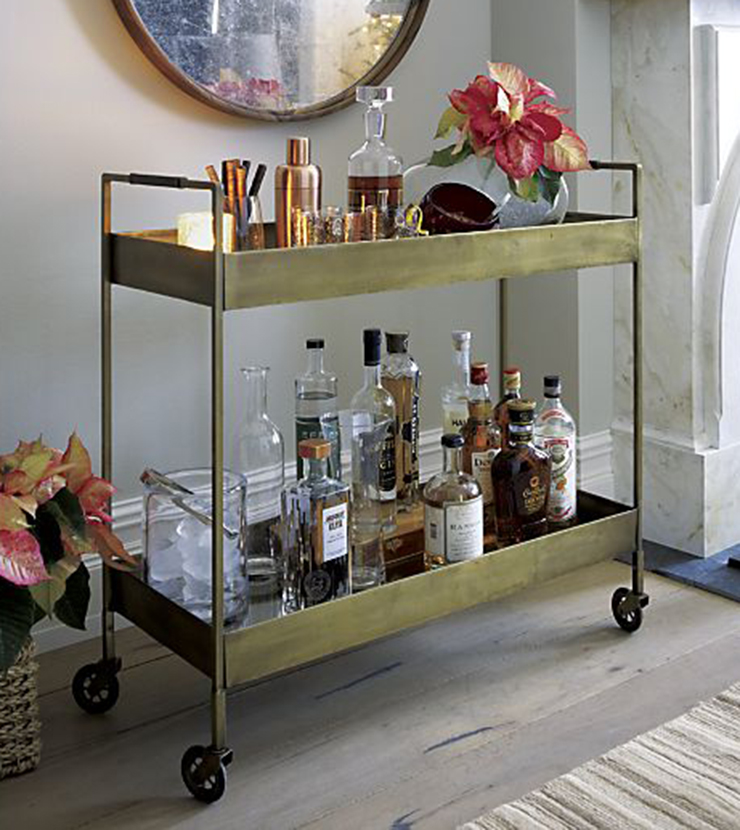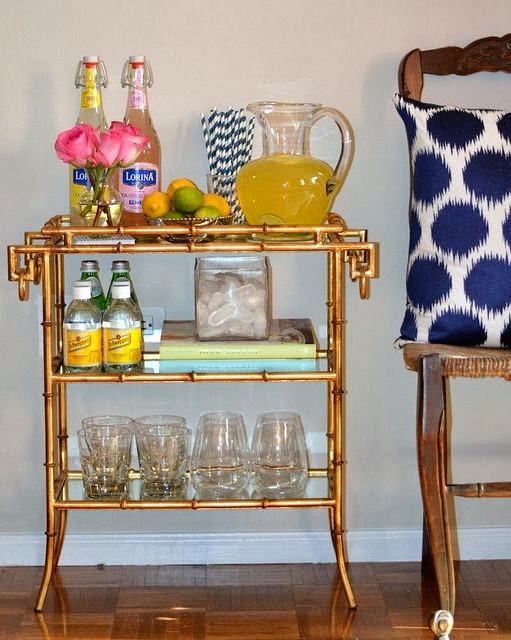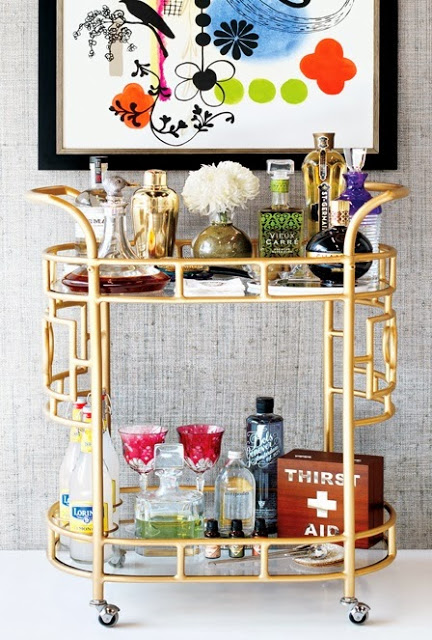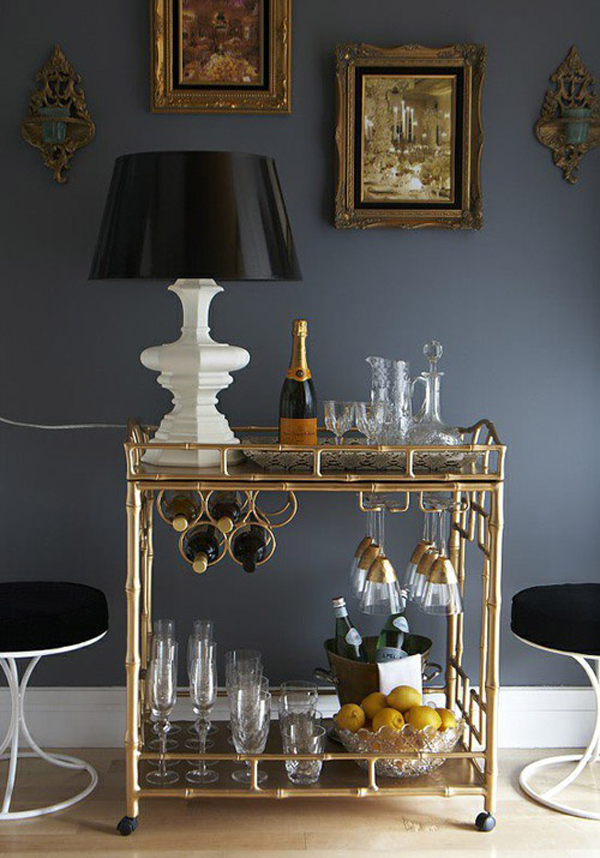 photo 1) Nina Campbell
photo 2) http://sweethomechicagoblog.com/2015/03/bar-cart-inspiration/
photo 3) http://redvelvetandleopard.blogspot.nl/2012/11/bar-cart-inspiration.html
photo 4) http://redvelvetandleopard.blogspot.nl/2012/11/bar-cart-inspiration.html
photo 5) http://fashionablehostess.com/bar-cart-inspiration/
photo 6) http://www.popsugar.com/home/Bar-Cart-Ideas-30891156#photo-30891169
photo 7) http://samanthapattillo.com/get-your-drink-on-bar-cart-round-up/
photo 8) http://designingdomesticity.blogspot.nl/2013/11/inspiration-file-bar.html
photo 9) http://designingdomesticity.blogspot.nl/2013/11/inspiration-file-bar.html
photo 10) http://www.bestofbklyn.com/2013/12/best-of-bar-bar-cart-styling-inspiration.html