I can't remember the last time I finished reading a book, or even got half way or better still just picked one up to start reading ! I have, god knows how many, excuses such as: kids, work, house stuff, school, just plain busy, but in reality I just haven't allowed myself to do it. If I can find the time – albeit rather late these days – to watch some junk on telly (and I mean total rubbish, no- brainer -stuff, doesn't -require- you- to think, concentrate -or- even- understand- what's -going- on – rubbish) then I can find time to read a book. Especially when I am encouraging my kids to read, leave the i-pad and telly and just read; every day for an half hour then shouldn't I set a good example? Practice what you preach and all that stuff….surely?
So I am not there yet and am not likely to start 'Ulysses' by James Joyce or  'In search of last time' by Marcel Proust any time soon. However, I have made my more achievable summer book list and am determined to read at least 1 during the holiday and hopefully more during the whole summer.
When it comes to design books- which really can't be classified as reading material more as "easy to flick through photo scanning material", I also have my top 3 of current favorites. Great for quick inspiration or else to use as props to create little still lives in your interior. So thought I'd share my current top 3 interior design books.
Top 3 interior design books:
Creative living London – Emily Wheeler, photography: Ingrid Rasmussen
For dark interiors, bohemian and very moody. I love this look.
Designers at home – Ronda Rice Carman
For looking at how other designers have decorated their homes. Great for inspiration and brings out a real Peeping Tom in us (well me at least..).
Modern Glamour, the Art of unexpected style – Kelly Wearstler
For inspiration from the undisputed style Queen of Glam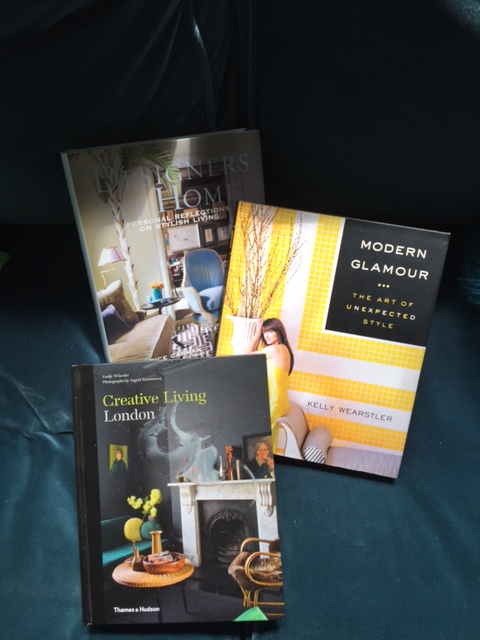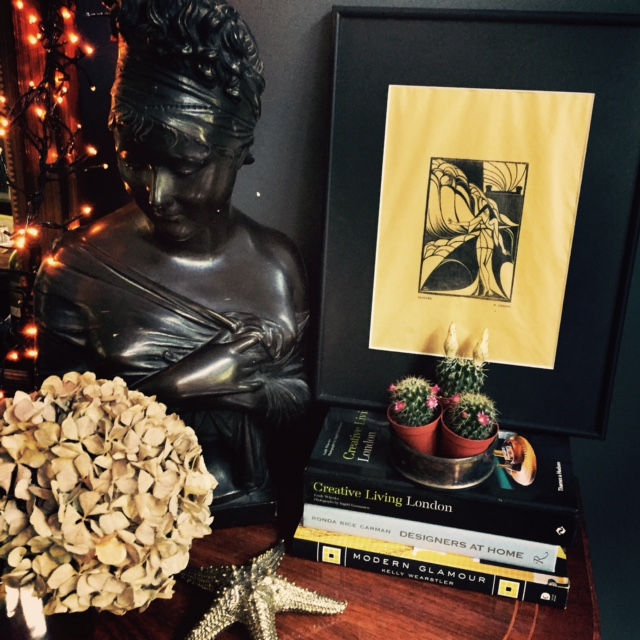 My books used as props – quite effective!
Just a final word: The last post I started off by admitting I have so much to learn in the parenting department and how I would love to get that all important bible of parenting (yet to be written I suppose) but today I want to share with you a little conversation I overheard. My 3 kids were having a bit of a debate about things important in life such as dolls, I-pad, food, ice-lollies etc. When they ended their heated debate they had reached the following conclusion; my 2 youngest felt that if they really needed everything they had just discussed then 'money' was the key to happiness. Important to stress that my daughters aren't materialistic at all – when asked what they want for their birthdays I get answers such as: "stickers" and "post-its please". However my son – overruled their conclusion firmly stating the most important thing isn't 'money 'it is 'the love and support of your family'.
Gasp. Must be doing something right!